Construction Information & Travel Impacts
Travel impacts for the weeks ahead include the following:
TUE (11/29) through FRI (12/2) 9 a.m. - 3 p.m. There will be lane closures on southbound US 183 from SH 29 to Seward Junction Loop.
FRI (12/2) 9 a.m. - 3 p.m. There will be rolling lane closures along the entire corridor for street sweeping.
Long-Term Travel Impacts & Major Activity
Ongoing, long-term travel impacts include the following:
Beginning as early as Monday, November 28, the northbound to southbound U-turn south of SH 29 will be closed. Drivers are advised to use either turnarounds at Seward Junction Loop or north of SH 29 to access southbound US 183.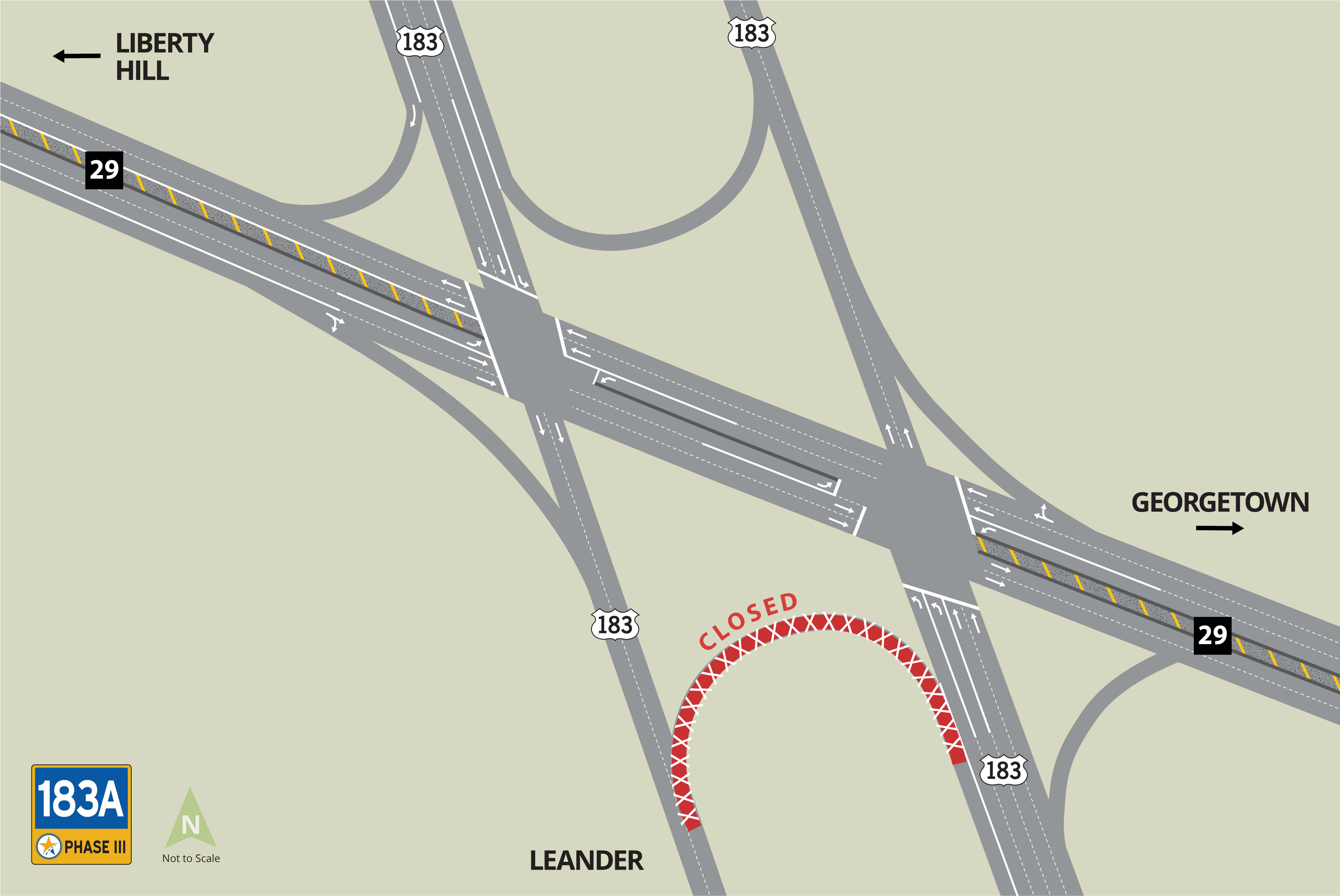 Please note: All closures are subject to change based on weather and other circumstances.

What to Expect during Project Construction
Construction activity will occur throughout the entire corridor simultaneously until completion of the project, anticipated in early 2025.
Construction will take place primarily within the existing US 183 median and right-of-way, minimizing impacts to the traveling public. However, the community should remain prepared for:
Travel delays
Lane shifts, closures and detours
An increase in noise, vibration, dust and lighting, including during night work
The use of trucks and heavy machinery
While construction is an inherently disruptive process, we make every effort to minimize the impacts as much as possible. Mitigation measures on the 183A Phase III Project include:
Regular use of water trucks to reduce dust
Weekly roadway sweeping to reduce debris
Directing construction lights away from residential areas
Financial penalties for the contractor if a closure occurs or lingers outside of approved time frames
We do our best to communicate traffic impacts to the public in advance of work through weekly email notices, twitter, and other direct channels. However, shifts in scheduled activities do occur so project traffic impacts are kept up to date on this page.
Reminder: The corridor is an active construction zone. Please do not park or walk within the median or along the sides of the roadway, including the area around the San Gabriel River. Thank you for your cooperation.
View our 183A Phase III Construction Guide for more information on what to expect during construction. For any questions or concerns about construction activities, please reach out to the Project Team directly through our contact form or by phone at (512) 340-1111.
We thank you for your patience as we work as quickly and as safely as possible.