Construction Information & Travel Impacts*
Travel impacts for the weeks ahead include the following:
TUE (5/30) through FRI (6/2) 9 p.m. - 5 a.m. The crossing at Green Valley Drive will be closed. Drivers may use the crossings at Whitewing Drive and Bryson Ridge Trail to turn around.
WED (5/31) and FRI (6/2) 9 a.m. - 3 p.m. On northbound US 183, the right lane will be closed for several hundred feet beginning at CR 258. Please use caution while driving.
FRI (6/2) 9 a.m. - 3 p.m. There will be rolling lane closures along the entire corridor for street sweeping.
Long-Term Travel Impacts & Major Activity
Ongoing, long-term travel impacts include the following:
SH 29 traffic at the intersection of US 183 has shifted to accommodate excavation and construction of new bridge. At project completion, the bridge will carry pedestrian movement and SH 29 traffic over the new 183A toll lanes.
The northbound to southbound U-turn south of SH 29 is closed. Drivers are advised to use either turnarounds at Seward Junction Loop or north of SH 29 to access southbound US 183.
The pedestrian crosswalks at the intersection of SH 29 and US 183 are closed. The Project includes pedestrian improvements at this intersection such as the addition of sidewalks and upgraded signalized crossings.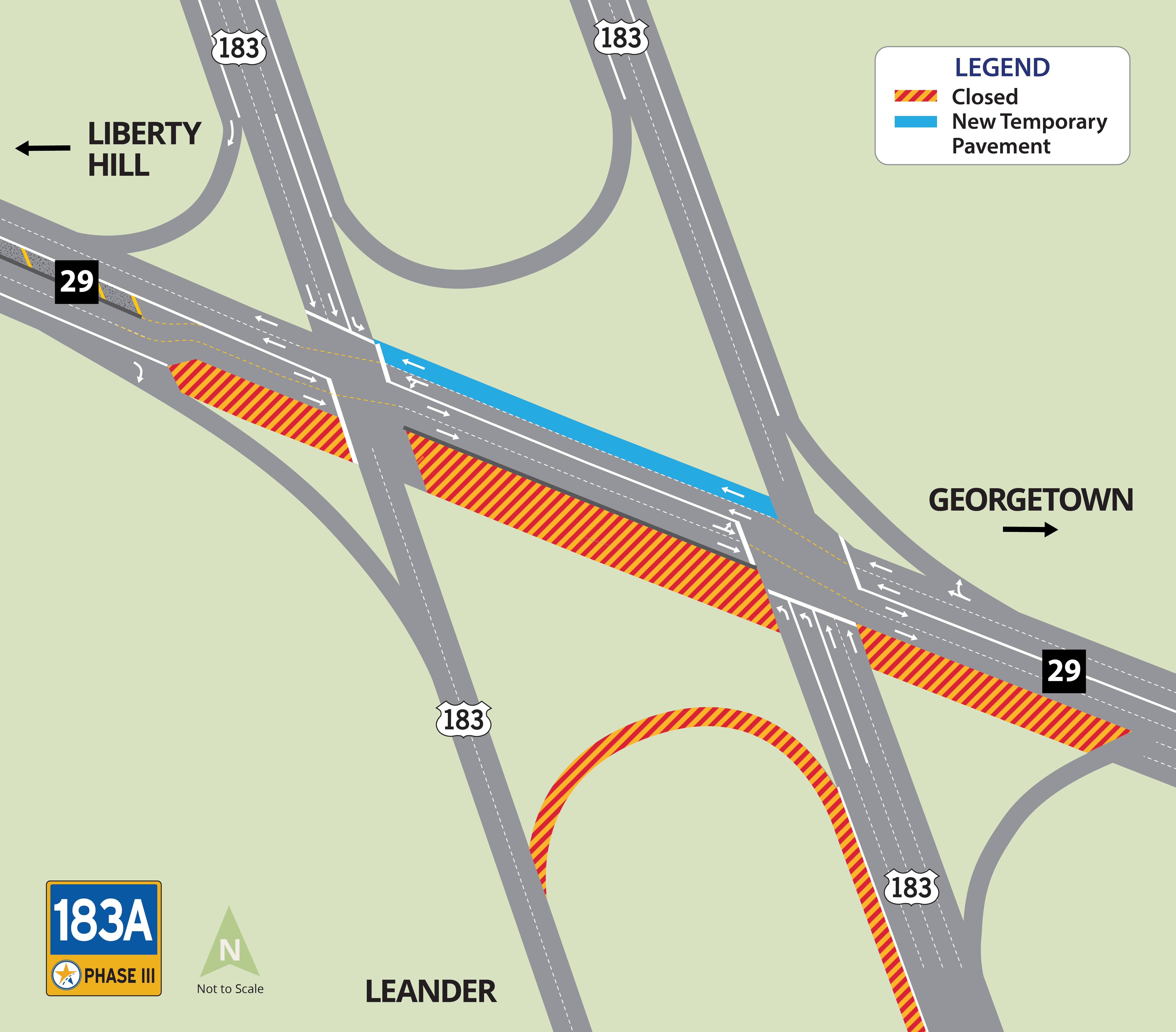 ---
SH 29 Traffic Shift - Frequently Asked Questions
1. How will this impact drivers?
Temporary pavement will be used to accommodate the traffic shift and maintain four lanes of traffic on SH 29. Drivers should use extra caution while traveling.
2. How long will this traffic shift be in place?
It is anticipated to remain in place indefinitely during the first phase of construction of the new bridge.
3. Are there additional closures caused by this bridge construction?
Yes, the existing closure of the northbound-to-southbound u-turn south of SH 29 is related to this work. In addition, a subsequent phase of bridge construction will require a second traffic shift, however timing for this second phase has yet to be determined.
4. What will this look like?
The SH 29 and US 183 intersection will remain at grade and will largley resemble existing conditions, with the exception of new 183A toll lanes carrying traffic underneath SH 29.
The Mobility Authority and the 183A Phase III Project Team thank you for your patience during construction. While a project of this size and scope comes with access interruptions and travel delays, we try our best to minimize the impacts. We welcome and value public input and address your concerns by making changes when reasonable and feasible to do so.

*Please note:
All closures are subject to change based on weather and other circumstances.
These closures are required for construction of the 183A Phase III Project. The traveling public may experience additional closures along the corridor as a result of other neighboring construction projects and are not associated with the 183A Phase III Project.

What to Expect during Project Construction
Construction activity will occur throughout the entire corridor simultaneously until completion of the project, anticipated in early 2025.
Construction will take place primarily within the existing US 183 median and right-of-way, minimizing impacts to the traveling public. However, the community should remain prepared for:
Travel delays
Lane shifts, closures and detours
An increase in noise, vibration, dust and lighting, including during night work
The use of trucks and heavy machinery
While construction is an inherently disruptive process, we make every effort to minimize the impacts as much as possible. Mitigation measures on the 183A Phase III Project include:
Regular use of water trucks to reduce dust
Weekly roadway sweeping to reduce debris
Directing construction lights away from residential areas
Financial penalties for the contractor if a closure occurs or lingers outside of approved time frames
We do our best to communicate traffic impacts to the public in advance of work through weekly email notices, twitter, and other direct channels. However, shifts in scheduled activities do occur so project traffic impacts are kept up to date on this page.
Reminder: The corridor is an active construction zone. Please do not park or walk within the median or along the sides of the roadway, including the area around the San Gabriel River. Thank you for your cooperation.
View our 183A Phase III Construction Guide for more information on what to expect during construction. For any questions or concerns about construction activities, please reach out to the Project Team directly through our contact form or by phone at (512) 340-1111.
We thank you for your patience as we work as quickly and as safely as possible.